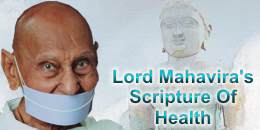 The most significant question of life
How to keep the healthy body
Healthy thoughts, healthy mind
Solve the intricate problem of health
Have health as companion
For all times.
Maharshi Caraka's awakening call
Gives one message to all
Healthy is he
Who eats what is good
Eats but little
Eats what is ordained
By law divine
This is the language of health
Definition which has
Body as the centre.
Mahavira's philosophy of health
Provides thinking that is new
Definition of health centred round the soul
Awakens a new curiosity
Healthy is he
And is contained in himself
Whose endeavour is pure
And pure the working of the mind
Which is the receptacle
Of pure emotions
Who leshya and ahhavalaya
Are also as pure.
This is the grand secret of health
Life on its own becomes
As what is ordained
Purity of the soul is enhanced
And the purity of endeavour
And emotions
Of abhamandal and leshya
Attainment of happy
And tranquil mind
Elimination of disease
Likely to invade the body
On-set of health in all respects.
Presented here with
Mahaprajna's original creation
May we find through yoga
A healthy life
New concepts
To treat diseases
New systems, alternatives new
Emotional therapy
And therapy through abhamandal
Therapy through abhamandal
Therapy through colours
And through smell
Through taste and touch
Through sound and thought
If research and investigation
Are well carried on
And experiments intensified
And training too
These thoughts
Of spiritual master
Will open new doors
For treating diseases.
The basic formulae
Laid down in Agamas
Mahaprajna's intrinsic
Interpretation
Ancient context, language modern
Unprecedented examination
Of problem of health
Let as read
MAHAVIRA 'S SCRIPTURE OF HEALTH
It would purify life
And body as well
Would change the way of thought
And develop outlook new,
Would suggest alternative medicine
And lead to resolve to
Practice Dhyana-yoga
And Preksha-Anupreksha
Would be a prelude
To new beginning of life
New assurance
New faith New aspiration
Beyond the limits
Of Body and mind
The vision of
Consciousness of health
Would be able to open
New horizons in life
Muni Dhananjaya Kumar
June 4, 1997
Terapanth Bhavan
Gangashahar