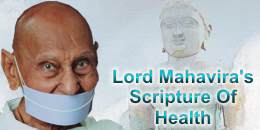 In this context, it is necessary to understand one particular provision of the principle of karma (act). The principle of karma is Sarvatmana Sarva-Savvenam Savve universally applicable. When a person is possessed with hatred, he is bound by the deluding karma. This is because he hates only because of delusion. It may be the bond of the deluding karma, but it would have, at the same time, seven or eight bonds of karma. If there is no bond of life-span karma, these would be the bonds of the seven acts.
These include also diseases; there is also sat vedaniya as well as asat vedaniya karmas. It is certain that if a person is full of hatred or jealousy, the deluding karma (delusion producing karma)would have a greater part. The director, that is, the dominating feeling, would have a greater share and all other auxiliary karmas would get lesser share. This means that when feeling of hatred is dominant in a person, there would be the bond of deluding karma, together with the bond of gyanavarniya karma, darshaniya karma and vedniya karma. All bonds of karma would be there. All would have their respective part and main part would be of the mohaniya karma. The system regarding the diseases is the same as the system regarding karma.
One person became ill with a bad headache. The factor, which caused the headache, got the larger share. But he had Pain not only in his head but also in his whole body. It is possible that we may not experience the pain in the spinal column. But if we have a microscope, we can find out that the pain is not just in the person's head. There is more pain in that Particular part of the body because that part has got the greater share.
If we consider the problem of health in the light of this whole discussion, we would come to certain conclusions.
If we want to improve health, do not give importance only to the body; give importance to the mind as well as the emotions. It is the brain that directs the mind and the emotions. Give attention to the brain also. We would freely understand what Mahavira says, if we would be able to do this.