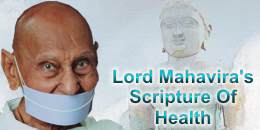 If we think from the point of medical science or from the point of view of a doctor, Mahavira could never have been healthy. He took no nourishing food at all during the twelve and a half years of his sadhana. He performed only penance and fasted. He took no food and no water. He broke his fast with whatever plain and simple food that was available. His body got no nourishment at all. Still he was no perturbed.
The modern medical science says that a body produces a lot of protein and also many other things. We shall have to go by the fact that when the emotional system is very expansive and pure, his body automatically produces the necessary elements.
Mahavira did not take any food or even water for six months. If one asks any doctor, he would say that it is impossible, it is not true. But the fact is that it was true. Why talk about six months? Even in the case of a person who has fasted and avoided taking water for 20-25 days, the doctor would say it cannot be true. But how could they refuse to believe what was happening right before their eyes? A sadhvi took only water of achha for a year and ate no food. Achha means the boiled filtered water of buttermilk (chhachha). In MEWAR division people boiled the buttermilk and a kind of water surfaces and it is called Achha water. With that achha that sadhvi carried on for twelve months and carried her daily routine very well. She was in good health. Many other sadhvis experimented by sustaining themselves on such Achha six or four months. A team of doctors came and insisted that such a thing was impossible. But how could they dispute what was happening right before their eyes? The only reason for such a thing happening is that when the emotional system becomes strong and healthy, it leads to no excitement whatsoever, or causes no impetus, the body also cooperates and causes such secretions that provide nourishment to the body.