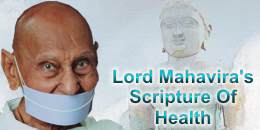 In what manner the sinews require to be trained depends on the individual concerned. The sinews would only continue responding to the training they have been given, whether good or bad. The only purpose of sadhana is to change the training already given to the sinews if it is not beneficial and give the new training which is beneficial. The training which is an obstruction to good health should be replaced by the training which is beneficial to good health. This can be done through anupreksha and bhavana.
A person was very unhappy because of separation from his wife. He had been trained to express grief caused by separation. He was asked to practise anupreksha. This confirmed the feeling that where there is union, there is bound to be separation too. Being happy in union and unhappy in separation is only a matter of the training one has received. The correct attitude is to react in exactly the same way in the state of union or separation. That unhappy Person caught the essence of this concept and he felt less unhappy. He started being cheerful.
If you are angry, learn to inculcate the feeling of forgiveness. If there is pride in you, learn to be humble. If here is too much greediness in you, learn to be more and more contented. It is possible to be successful in our effort by experiencing the contrary feeling. That kind of feeling is the key to good health. If a sick person constantly thinks only about his sickness, he would always be sick. We would always feel unhappy. The wise people would say, "We have more healthy traits within us. Think about those traits. Change your tone of talking and say, "I am not sick. I am healthy, I am healthy". Such contrary tone would work wonders.
Inculcating the contrary feeling is the formula of the brain control. Thus breath is also a formula of control. When the left nostril is active, the right side of the brain is controlled. When the right nostril is active, the left side of the brain is controlled. The left side of the brain guides the functions of the right side of the body. The right side of the brain guides the functions of the left side of the body. If the breathing process is proper, then the process of control is also proper.
Thus, the brain control is the factor of basic importance for our health.