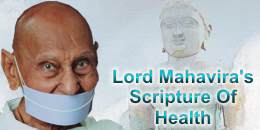 Leshyadhyana [Perception of Psychic Colours] and Svasthya [health]
Good health and bad health are related to the colours, the emotions and the abhamandal. A person would be subject to mental, emotional and all kinds of physical illnesses to be extent that his abhamandal is pallid. The person, whose abhamandal is very pure, would opt for good health and would remain healthy physically, mentally and emotionally.
A new method has been developed by the modern science for studying the abhamandal and basing the diagnosis of the diseases on that study. The extent to which the abhamandal can give the correct picture, not even any mechanical instrument can give. As for the mechanical instruments can, at times, show the sick person as healthy and the healthy person as sick. But the abhamandal cannot deceive anyone. It is believed that the abhamandal predicts about the impending disease six or even twelve months in advance. From this it can be learnt that a particular disease would become manifest and we can realise to what extent the abhamandal and health are closely related.