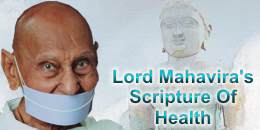 The yogasana method prescribed the asanas. The function of the asanas is to create tension. It is very necessary to bring tension of the muscles. The muscles should be made tense and then be relaxed. This is a very important formula first to give tension and then release. It is said that one must first do the sarvangasana, to be followed by the opposite asana-matsyasana.
Between these asanas, do kayotsarga for a minute. If you do bhujangasana or any other asana, do kayotsarga for a minute in between. Do kayotsarga for a minute after every asana. If we continuously create physical tension, the asanas would cause harm. Our heart too does not work non-stop. The heart does kayotsarga very well. It works one moment and the moment later does kayotsarga. That is exactly why it keeps on pulsating all the 24 hours. It would not be able to work so hard but for kayotsarga.
Tension and relaxation is the important formula for health. Kayotsarga gives rest to the system. It gives rest both to the body and the mind. The important formula to keep our physical and mental system health is kayotsarga. Just think of the weight one has on his mind. That weight any donkey, bullock, camel or even a truck would not carry, mind carry more than these. A small incident may pass off, but it leaves on the mind the weight heavier than many mounds and tonnes. The brain and the mind carry so many burdens! How can that burden be removed? Kayotsarga is the most wonderful way.