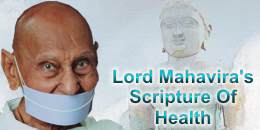 Let us now think about the bhava and the disease. There is a sloka which says that the inner purity leads to the outer purity and the inner impurity leads to the outer impurity or disorder:
Antervishuddhito Janto, Shuddhi Sampadryate Bahiah
Bahyam iti kurute Dos ham Sarvamantaradoshatah
We pay lot of attention to external causes, to virus and germs and consider them to be the root of all diseases. We reduce even the mind to a secondary position and also reduce the bhavas to the same position. Our immunity system, our resisting power against the disease does not depend on these external factors. Its source lies in the purity of the mind, or going beyond, in the purity of the bhava and the leshya. Or going even beyond, it lies in the purity of adhyavasaya. And even beyond this there is a source that is subsidence of kashaya.
If we think about all these things, then the relation between the bhava and health becomes clear. The distortion of the bhava gives birth to diseases. If there is fear in the mind, it is bound to lead to some illness. Large numbers of ailments have been associated with fear. If one begins to have some craving, it would give rise to some ailment or the other. Too much craving for a particular thing leads to terrible illnesses. Craving or curiosity influences the thyroid gland, thereby leading to a change in functioning of the thyroxin. The process of metabolism also changes melancholy, irritation; lassitude, depression, etc. are the resultant illnesses. Where should we look or reach for the origin of these illnesses? We could find no reason for them in the body. There is no cause for these ailments in the body. No bacteria or no germs that could have led to the ailments could be found. Then what caused these ailments?
Their origin will have to be found in the world of emotions. An intense feeling of curiosity, fear, anger, etc. disturbs the condition of health. They do not directly affect health. They first disturb the nervous system. When the functioning of the nervous system and the glandular system is disturbed, it is an open invitation to some illness or the other. Therefore, while thinking about health and keeping the words of Mahavira in mind, we should go beyond the body, either the world of the emotions or understand its entire functioning. The conclusion would be that we should purify the bhava in order to get rid of fear and be fearless. With that, one's fear would disappear and his feeling of fearlessness would be strengthened.