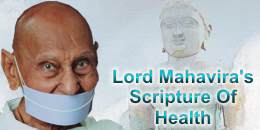 Bhagvan Mahavira said, "Perceive the soul through the soul." It is an excellent formula for spirituality and at the same time, it is a very important formula of health. 'Seeing' oneself means seeing one's body, the vibrations of the body, 'seeing' the gross and subtle vibrations taking place in the body. It means 'seeing' the biological and chemical changes that take place in the body. It means 'seeing' the characteristic changes in the 'seeing' their origination and cessation. Every moment comes and it passes out. 'See' the atoms that are created and destroyed.
An important aphorism in the Acharanga Sutra says that one should observe the moments that come in the body. What happens to the body at the moment? One eats food and it is digested. This is an automatic action. No effort has to be made for it. But if we concentrate on it, digestion too would be better. 'See' the navel and the digestive process would improve. 'See' the internally secreting glands. They would once again start functioning properly. The adrenal gland, the pituitary gland and the thyroid gland are the three glands that affect us. These three glands are our sources of strength. Their effect on us is the maximum. 'See' those glands and they would function perfectly.
One's ability to 'see' is his very great power. If attention had been paid to this ability, the current of our life which flows at three levels would have been balanced. Those three layers are physical, psychical and spiritual. The current of life flows on and in course of this; all kinds of situations are created. Let us take a concrete example. There are some birds that hatch their eggs and some that do not hatch. The birds that do not hatch the eggs just sit staring at those eggs and the eggs get matured. Do the fish foment? No. They only see and touch. Some birds touch and sit on the eggs. Some birds only see the eggs and the eggs get matured.