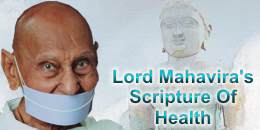 Imbalance of the prana is responsible for a large number of illnesses. Even the medical science has not yet understood the illness resulting from the imbalance of the prana. Vital energy must be well balanced in the body. There should be a balanced flow of vital energy in the nervous system. Where there was an excess of vital energy, a problem arose. If vital energy accumulates in excess at the Kama Kendra, the lust would be stronger. It will increase to such an extent - it will be difficult to control it. Whenever there is an excessive accumulation of the vital energy, the result would be some illness. If it happens in the navel, one gets angry and irritated and a number of disorders would result. If the balance of the prana is maintained, one can be spared of many health disorders.
Kayotsarga is a wonderful way to have the balance of the prana. When one is relaxed, the imbalance of the prana changes into the balance of the prana. With that the flow of' the prana gets automatically corrected.
Slow breathing is one way of achieving the balance of the prana. It is very important to keep the breathing slow. One great condition for keeping good health is never to breathe fast. If one practises kayotsarga, the breathing would automatically slow down. If we keep the count of the breathing before starting kayotsarga and ten minutes after, it would be found that the breathing has slowed down. The balance of the prana and the slowing down of the breathing are easily achieved in the state of kayotsarga.