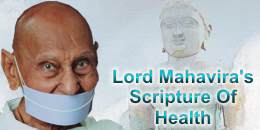 Hridaya Roga - Karana and Nivarana
The perception of deergha shvasa is very helpful in the problem connected with the heart disease. The main thing is that the vital energy increases with such practices, the powerful system becomes stronger and the ability to resist the diseases also increases. The diseases disappear. If the vital energy is enhanced and the prana is allowed to flow and a mental picture is created, then a day can come when the obstructions in the arteries of the heart would all vanish.
Let us now sum up the discussion about the heart disease and its prevention. There are three causes of the heart disease:
Adhyasaya,
Diet,
external causes.
Some formula for the prevention of the heart disease are clear:
Developing the non-absolutistic point of view (anekanta)
Kayotsarga
Balance of the prana and apana
Mantra therapy
Perception of deep breathing
Colour therapy
The modern scientists believe that the sound, the light and the colours are all the vibrations of the same kind. The colour is the forty-ninth vibration of the light. Even the sound produces the colours. That is why it is said that the colours can be heard and the sound can be seen. It is possible to do it with the help of electrical implements.
The sound and the colour are closely connected with our life. The blood of a sadhvi living at Ladnun became very dilute and she continuously bled through her nose. Several doctors were consulted and she was given treatments of all kinds, but to no effect. Her survival seemed difficult. Every one was in despair. That sadhvi said, "Suggest to me some way of dhyana and a mantra. That will be the only medicine for me. Along with a mantra, I suggested to her to concentrate her mind on the blue colour. The sadhvi acted upon my suggestion with full faith. Just within two days there was almost a miracle. Bleeding through her nose stopped.
The therapy of the mantra and the colour succeeded where the conventional treatments failed. It can be asked how it had happened. The reason is clear. The blood, which had become dilute, became thicker because of the concentration on the blue colour, due to which, bleeding from the nose stopped. A lot can be achieved by harmonising the mantra and the colour. There is a lot of scope for investigation and research in this direction. The need is for research and experiment. If we take up the experiments that have been suggested and if we are able to balance the prana and the apana, the chances of the heart disease can be completely eliminated.