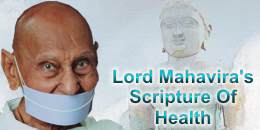 The paryapti with regard to food needs rest. That is why it is said that we must control our eating and not go on eating day and night. The paryapti of the body also needs rest. Hence we should not work the whole day. The paryapti of the senses too needs rest. Therefore, we should not take work from our senses all through the day. Breathing also needs a respite. Hence, we should not breathe fast. Of course, it is necessary to breathe, because man cannot remain alive without breathing.
Once when a man died, another man asked, "How did he die?" The reply was, "You don't know, he was very forgetful. It seems he forgot to breathe and died."
It cannot be said that we should not breathe. But we should definitely use discretion and we should occasionally restrain breathing, and occasionally hold the breath. When a person restrains his breathing, his vital energy increases. Do not increase the pace of your breathing through your impulses so that your vital energy starts depleting. Restraint on breathing is an infallible way to control impulses.
We must also exercise restraint in our use of language. We should not go on speaking all through the day. We should control our mind. We should not think too much. Too much thinking vexes paryapti with regard to the mind and the working of the mind. The person, who goes on thinking throughout the day and night and does not give rest to his mind, puts his foot on the threshold of death. It is necessary for health to keep the paryapti with regard to the mind in good order and control the mind.
Bhagvan Mahavira talked about several ways of exercising the self-restraint. From the health point of view six ways among them are very important:
restraint in eating food,
restraint in the use of the body,
restraint in the use of the senses,
restraint in breathing,
restraint in the use of language and
restraint on the mind.
The person, who exercises these restraints and does not interfere with the paryaptis and allows them to function in their own way, keeps himself in very good health. We should not forget about these six paryaptis while thinking about the factors that are important for health. If we think about health by neglecting them, and try to keep healthy, we may not succeed. When we interfere too much with these six paryaptis the result is pollution and there is a greater danger of the spread of diseases. The person who is vigilant about health tries to enhance the functioning of these paryaptis, protects and increases his vital energy. That is why he holds the key to health in his hands.