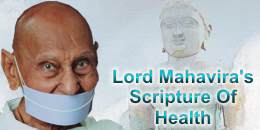 Leshyadhyana [Perception of Psychic Colours] and Svasthya [health]
The colours of the leshyas are natural. The vitamins are of two types:
synthetic vitamins or those produced by chemical mixture,
the vitamins which are natural and are found in the fruits, leafy and other vegetables.
In the context of the diseases, the use of the coloured things are prohibited and in the case of some other diseases, it is prescribed.
A monk developed white blotches on his body. The doctor asked him not to eat anything of white colour. If one has to eat it, he should mix some other thing with it so that its white colour changes. For instance, if curd is to be eaten, mix roasted jeera with it so that the colour of the curd does not remain white. In case of certain illnesses, more of green coloured things should be eaten, whereas in certain other illnesses, more or red or white coloured things should be eaten. Deficiency of a particular colour in the body becomes the cause of some illness.
One regains health as soon as the balance of the colours is achieved. For the practitioner of a mantra, it is ordained that the person should wear the red-coloured garment while doing a particular type of sadhana. His garland should also be red. If one wishes to perform the sadhana for the subsidence of the kashayas or attaining the state of dispassionateness, it would be best for him to wear the white-coloured garment and garland.