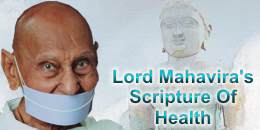 Hridaya Roga - Karana and Nivarana

The basic question is how can the consciousness of equanimity be developed. How can the powerful emotional reactions be controlled? How can we develop an enlightened outlook about life? The most important thing is to develop such an outlook. Any action or behaviour on our part comes later. First the outlook is developed. How to develop such an outlook?
The first thing to do in this regard is to adopt the anekanta attitude in life. Bhagvan Mahavira gave us the outlook of Anekanta so that one is able to maintain the emotional, the mental and the physical balance. When an absolulic attitude is adopted, there is insistence, which complicate the situation. Insistence brings too much tension and tension is greatly responsible for the onset of the heart disease. Insistence is not merely about big things. It is also about small and trivial matters.
For instance, there were two brothers one of whom said, "I shall buy this house" and the other one said, no, I won't allow that." Whether or not the house was bought, tension was created between the two brothers. The circle of action and reaction started. One brother was always watchful that the other brother did not buy the house, who in turn, was on the alert to see that his brother did not create any obstacle.
This is an example of the tension that results from insistence. One-sided approach results in insistence and insistence results in conflict. With insistence and conflict, tension is inevitable. Anekanta means elimination of tension.
It means trying to understand the point of view of the other person. If you are not able to understand the other point of view or do not find it acceptable, do not try to impose your view on others. Try to understand the point of view of others, and sit together and discuss. If there is no point of agreement, find a formula to establish harmony. The second point about
anekanta
is the quest for harmony. If it is not possible to find a formula for harmony, follow the principle of co-existence. One of the principles of
anekanta
is that two mutually contradictory things can co­exist. There is no point without a counter-point. Everything is a combination of the opposites. There is nothing, which does not have the opposite properties. The positive and the negative, the hot and the cold are found to exist together. What is hot is also cold and what is cold is also hot. The hot and the cold, the positive and the negative everything is relative. Adopting the
anekanta
point of view, leads to less insistence, it reduces tension. We can be spared of many diseases if we can learn to adopt the
anekanta
attitude.