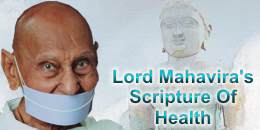 Now, the question is: Why were the asanas not prescribed in the Buddhist method of sadhana! However, the reason is also clear. The Buddhist philosophy has advocated only one danda (special yogic exercise) that is manodanda (exercise of the mind).
The entire process of the Buddhist Sadhana is based on the mind. There is no provision in it for vak-danda (exercise of the speech) and kaya-danda (exercise of the speech).Whereas, Mahavira has provided for three types of dandas: manodanda, vak-danda and kayadanda. He said: "The body too is a danda and it is necessary to tame it." Then the question arose: "What has the body to do with sadhana?" Actually, sadhana has a very close connection with the body. If we do not train our ligamentary centres properly, our mental state also would not be good. If we go deep into the matter, we come to the conclusion that the mind and the speech are not independent. It is through the body that the speech becomes active and it is through the body that the mind is also activated. If our larynx is not in the proper condition, we would not be able louse our speech properly. If the brain which activates the mind is not in the proper state, the mind would not function well either.
What is it that activates the mind, the speech and the breath? Their activating centres are in the body. The asanas and the pranayama are the two ways of keeping these centres in a healthy and active state. The more important of these two ways is the asana. Man would be healthy if he properly activates the regulating centres through the asanas. The digestive system, the breathing process and the proper expulsion of the excreta are the three main things in our body. Restlessness, sadness, depression are also the results of their malfunctioning. The healthy state of these three systems is the condition for remaining healthy. If we neglect them and do not determine their proper functioning by doing the asanas, there would not be alternative before us except going to the doctor and taking medicines.