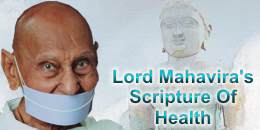 The fourth paryapti is with regard to respiration. Its relation to health is very evident. Further discussion on the subject does not seem necessary. The person, who has practised proper respiration and kept the paryaptis with regard to respiration in the proper state, has been spared of many troubles.
Proper breathing is the function of the paryapti with regard to respiration. That process should not be obstructed. Some of those obstructing factors have also been prohibited. The first obstruction is food. We should take the food which is neither too hot nor too cold. When the food is too hot or too cold, the process of breathing is affected. The paryapti regard to respiration is safe when a special attention is paid on food. A person who is prone to getting angry easily disturbs the paryapti with regard to respiration. Emotions and the force of breathing greatly affect the paryapti with regard to respiration. The normal thing is to breathe fifteen times in a minute. That means, breathing in once in two seconds and breathing out once in two seconds. Breathing once in four seconds is the normal Process. In a state of excitement that number goes up from fifteen to twenty, thirty or even forty. That affects the paryapti with regard to respiration and also destroys vital energy.
The paryaptis with regard to the food, the body and the senses are of fundamental importance from the point of view of our health.