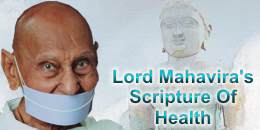 "Oh, Lord! What is the benefit of kayotsarga?"
The answer was, "The burden on the mind can be refined. Any behaviour or incident on account of which the mind is burdened can be rectified. In ancient times, kayotsarga was the only way adopted for expiation. If one has done something, which is unworthy, do kayotsarga breathing eight times. In case of undesirable behaviour on your part, do kayotsarga by breathing fifteen, twenty-five or one thousand times. Kayotsarga has been one way of rectifying the burden on the mind and of expiation. One is further given a significant instruction that when the expiation results in purification and the weight on the mind is removed, one feels peace at heart. It is like a person, who has been carrying a heavy sack all day long, feels himself absolutely light when he puts down his sack and takes rest.
Our behaviour and dealings, incidents and circumstances are a burden on our mind, but that weight becomes light by doing kayotsarga. One experiences unlimited happiness and peace. It has been indicated that kayotsarga brings freedom from physical and mental tension and health as its priceless achievements.