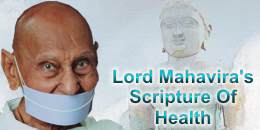 Anupreksha [contemplation] and Svasthya [health]
The practice of anupreksha is meant for mentally assimilating Truth. One of the five svadhyayas is anupreksha. It implies that the word should be first read, then it should be properly pronounced and after that its meaning should be learnt. The mind is absolutely clear when the meaning is grasped. Mere recitation of words without understanding their meaning is not very helpful. The meaning, which has been grasped, should be mentally assimilated, for which one should do anupreksha and contemplation.
Dharma is the highest mangala. But it cannot be mentally assimilated merely by recitation of the words. Contemplate on why Dharma is the mangala. Only when we have mentally grasped the meaning, Dharma can become mangala for us. Dharma would always be benedictory for the person who has fully grasped its meaning and has ingrained it in his mind.
This is the abridged form of anupreksha. If you wish to have spiritual development, you will have to practise anupreksha. If you wish to do away with moha, you will have to practise anupreksha. If you wish to change, practise anupreksha. If you wish to refine your behaviour, you will have to practise anupreksha. If you wish to improve your health, you will have to practise anupreksha. Through anupreksha, what you desire will be achieved. Every organ of your body will be instrumental in realising what you want. If you send out a suggestion to your hand to do or not to do a particular thing and go on sending out that suggestion over a long period of time, the hand would abide by your suggestion. Our nervous system that is connected with the five senses of perception grasp our instructions. What is necessary on our part is that we should learn to be mild in our behaviour and learn to give out such suggestions by which our problem is solved. He who masters this art of transformation grasps the secret of anupreksha.