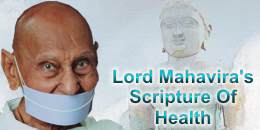 The seventh component of existence is the bhasha, which is very closely related to health. Vibrations of sound are linked to our health. When a person is angry, his lips would flutter when he speaks, his body would quiver, his speech would be unsteady. The emotion influences the language to a very great extent. When a person utters powerful words, their sounds would influence the emotion and also the mind. On this basis, the sound therapy was developed.
This therapy gives treatment through sound. Lot of research is being done today on vibrations. What type of language, what type of words, what type of utterances influence which system of our body? If there is some disturbance in the brain, its balance would be completely restored if we repeat the same word 10 minutes. The utterance of one particular word influences the heart; the utterance of some other word influences the liver and the nervous system. If these influences are examined minutely, the result would reveal the close relation between the emotion and the functioning of the mind and the body.
In the context of health, it is necessary to think about these seven factors the body, the senses, the breath, the vital energy, the mind, the emotion and the language. This is a comprehensive outlook. Mahavira had propounded his theory from the comprehensive point of view. The view of anekanta as propounded by Mahavira means that we should not insist on any single point of view. Instead, we must consider the essence of things in terms of totality.
The outlook which would grow out of considering these seven factors from the point of view of totality would be the one that would be the secret formula for both existence and health.