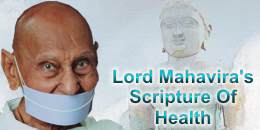 How Many Item to Eat?
In order to keep good health, it is also necessary to exercise discretion with regard to the number of items to be eaten when we have our meal. If an old man takes a meal consisting or more than seven or eight items, his stomach would be burdened so much that he would not be able to digest what he has eaten. All those extra things he eats would become instrumental only in causing some illness.
That is why discretion should be exercised in deciding how many items to eat. The Nature cure practitioners recommend not to eat two cereals at a time. They suggest only one cereal at a time and also not eat too many items.
These things related to controlled diet are very important for the health of the aged persons:
Do not eat after sunset
Practise navakarasi after sunrise
Take one meal a day
Do not eat heavy fond
Do not eat many items