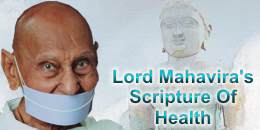 Anupreksha [contemplation] and Svasthya [health]
It is surprising that although we have found the principle of anupreksha, it has not been widely practiced. People in the West have used its lot. In autogenic training, suggestion is sent to every organ. This system of autogenic training has been developed by Prof. Johannes Schulz. In this system anupreksha is done with reference to every organ of the body.
If the digestive system has gone wrong, attention is concentrated on the digestive system and the suggestion sent out, "The digestive system is becoming healthy and active." Liver, kidneys, intestines all of them are related to anupreksha. In autogenic training, suggestion is given to the body, "You must become strong and fully utilise your power. Throw out whatever illness there may be inside." These words are repeated along with experiencing them. This method is used on the whole body.
Anupreksha is a protective armour. The Jain sadhakas have used it in this form, but it had not been used from the point of view of health and transformation. Right from head to foot, attention is concentrated on every organ, remembering or praying to all the 24 Tirthankaras. That provides the protective armour to our body. When anyone settles down for the sadhana of a mantra, he first creates the protective armour. Obstacles keep on disturbing the sadhana, but every organ creates for itself the protective armour to get over those obstacles.
This principle of anupreksha was used as the protective armour, but not as the emotional therapy. It was said, " 'see' the head and contemplate on Rishabha. Say to yourself, "May Rishabhanatha protect my head." If anupreksha is practised with such a wish, all problems about the head would get solved. If there is a feeling of well­ing in the head, the problem of health would also be solved. With the protective armour for the whole body from head to foot, if the protective cover for health had been created, a new system would have developed. But no such experiment was conducted. People in the West utilised it for the purposes of health. They get to one secret and develop it into a system. Autogenic training is a system, which is in concordance with the method of anupreksha. Experiments are being carried out in many countries on the basis of this system. This system is being used widely in Japan. The Japanese people have attained successes in the physical field as well as in the social field. Along with it, the field of sadhana too has developed.