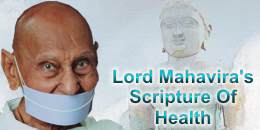 Hridaya Roga - Karana and Nivarana
The important result of kayotsarga is the active state of the prana. The two ancient terms used in yoga are the prana and the apana. Research should be done today with regard to both of them. The connection between the prana and the apana is very close. The part of our body from the navel to the anus is the place of the apana prana. The cleaner the apana, the healthier would a person be.
With impurities in the
apana,
a person would be more restless, melancholic and he would experience more negative feelings and arousing of the feelings that weaken the heart. Purity of the
apana
gives strength to the
prana
also. The tip of the nose is considered to be one centre of the
prana.
In terms of
prekshadhyana
the tip of the nose can be called the
prana-kendra.
The heart is the centre of'the
pranadhara
or the flow of the
prana.
The navel is also the centre of the
prana.
So also are the big toes of our feet. All kinds of conditions are created when
theprana
and the
apana
combine. When the
apana
is impure, it also makes the
prana
impure. Our mental state when we are having constipation is a matter of our direct experience. We are possessed by bad thoughts. We are not able to sleep well. We are overcome by lassitude and tension. We are not even able toconcentrate on work. We take some purgative and our stomach is cleaned, and with that, we feel joy surging within us.