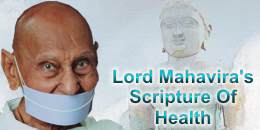 Prekshadhyana is of two kinds: one for the development of spiritual awareness and the other has the therapeutic value. Perception of breathing etc. leads to the awakening of spiritual consciousness. By practicing preksha in a particular manner, it is also possible to solve the health problems. Its main purpose is, preksha that is, perception. Very few people are adept in the art of perception as well as hearing. It is a special art. How should we practice perception? This therapy was based on the fact that we perceive others.
Several ways of initiating have been accepted. One of them is initiation through touch, the other is by perception. There is a full process on the treatment by the touch. A person full of vitality touches the patient's body on the spot which is affected by the disease. With that, the disease of the patient gets cured. This is called the touch therapy. It is being practiced. A large number of touch-therapists touch the patient's body or the affected part of the body and the patient gets cured.
The touch therapy is in vogue, but the perception therapy is not yet widely practiced. But it is a very important therapy, a way of initiation. The guru indicates someone by merely looking at him and that person regains his health. It is a well-known fact that if the guru looks at him with compassion, the patient's vital power is awakened. Instead, if he looks at the patient with the subdued attitude, it creates awakened. Instead, if he looks at the patient with the subdued attitude, it creates problems. Those who practise unwinking perception know that when you start looking at something, its shape would appear different in the first minute and in the second minute, it would appear to be a different thing, and in course of time, it would keep on changing its forms. After ten minutes, that thing would not be there at all. Something else would appear in its place. They know how one picture kept in front keeps on changing its forms.