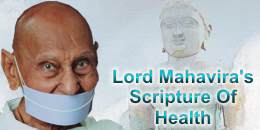 Anupreksha [contemplation] and Svasthya [health]
Another formula of the principle of anupreksha is the experience of the opposite feeling. This practice has been very nicely described in the Jain Agamas and in the Yogadarshana by the great sag Patanjali. There is a Sloka in the Dashavaikalika Sutra:
Uvapamena Hane Koham, Manam Maddavaya Jeene
Mayam Chajjavabhavena, Loham Santosao Jeene
"Conquer (your) anger through subsidence, conquer pride with gentleness,
conquer maya with straightness or simplicity, conquer greed with contentment".
This is a very simple sloka, but if it is practised in the form of experiencing the opposite feeling, it acquires great significance.
Someone said, "I get very angry. How can I get over anger?" He was shown the way, "Conquer your anger through subsidence." The formula was given but it was not explained. So, the question came, "How can subsidence be practised?" The answer was, "Practise anupreksha, experience the opposite feeling. You will find that your anger is subsiding; the feeling of subsidence is growing. Concentrate your mind on that point, send a command and the suggestion and experience this reality.
The transformation would not take place merely by uttering words. Conquer your anger through subsidence. But anger would not subside merely by reading or reiterating these words. You would be required to go through the entire process of anupreksha. The experience of the opposite reeling would take you nowhere without anupreksha. So long as the principle of anupreksha is not mentally assimilated, mere utterance of the words would not have any meaning. You can be what you wish to be only when your objective is definite and you are concentrating your mind on it. The language of suggestion or command is vitalized by feeling. As the words are uttered, the rays of potions also emanate. If this whole process is carried out, then the dream of conquering your anger would be realised.
Conquer conceit with gentleness - the opposite feeling in this case is softness. Elimination of ego is the unfailing formula. The same process of anupreksha would have to be adopted to attain that state, the opposite feeling would have to be assimilated. Without following the entire process of anupreksha, feelings cannot succeed.