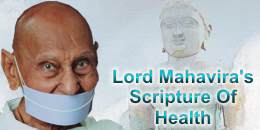 Controlling The Instincts
The third formula of health is to control the senses. As man grows old, he should control his senses. Especially he should have emotional control. The feeling of anger, conceit, attachment and greed should be kept to the minimum.
But the fact is that as man grows older, he becomes more prone to get angry, he becomes more irritable. He also becomes more greedy. For instance, his son is getting married. The son, who is a young man says, "I won't take any dowry. I don't want any wealth". The old father snubs him, "Keep quiet. What do you understand about these matters? It is the son who is getting married and it is also he who is to receive the money, but the father's greed contemptuously turns down his son's desire of not taking the dowry. As a result, there is tension between the father and the son.
The old age in which such situations arise can never be a good old age. The person is treated with contempt even at home, he is insulted and is shown disrespect. The aged person who has learnt to control his impulses and emotions can remain healthy. He who trains himself to control his impulses, lives through his old ages peacefully. The person who has too many expectations in his old age, can never live a peaceful and healthy life. There maybe an old man who would want always someone to keep him company and go on talking to him. If this wish of his is not satisfied, he feels picked and gets irritated. This tendency on his part becomes the cause of his mental disturbance and restlessness. From the point of view of health, it is necessary that his anger and pride remain subdued. One should not talk egotistically. He should not brag by saying things like: "In the days of my youth, I could get to the other side of a mountain in just a single leap". He must also give up attachment and greed. This subsidence of the kashayas and control over the instincts is the great formula of health of the aged.