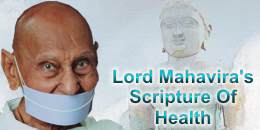 Patanjali said, "Concentrate on the senses and you would start experiencing external happiness." Concentrate on the tongue or imagine a particular taste. Whether it is the taste of an orange or of grapes, you would start experiencing that taste. You would be experiencing the taste of a sweet without actually eating it. You would start experiencing the external objects even without having them physically. The gods are said to be experiencing through the mind. They do not actually eat things, but relish the taste of everything. The tastes would be experienced merely by mental resolve. That is exactly what the gods do. Even their bodies cannot do without food. But they gather the relevant pudgalas. If we can gather the pudgalas mentally, and can absorb the pudgalas of colour, smell etc. through our breathing, we can have that type of food. We can then continue to live. If we learn to do the colour breathing, many of our expectations can be fulfilled.
It has been already stated that our breath contains colour, taste, and touch. There is a long chapter dealing with this subject in the Bhagvati Agama. It has been said in the Shvasamargana that our breath has the black colour, the blue colour and the yellow colour. In fact, there are all the colours in our breath. The blue colour is used to control the blood pressure level. The yellow colour is used for treating the liver problem. The use of that colour improves the functioning of the liver. Each organ of the body has a Particular colour meant for it. When that colour becomes unbalanced, the disease afflicts that particular organ. By supplementing that colour, that organ regains its powers to function properly.
The proper knowledge about colours plays an important role in bringing about physical health. Breathing and health are so closely related that it is necessary today to pay extra attention to it. Mahavira has given a great deal of information revealing the mysteries about breathing from the living beings with one sense to those with five senses. What is the order of breathing of the creature of Prithvi Kaya that lives in one place? The minutest details about their breathing process have been mentioned in the Agamas. There have been attempts so far to understand this long chapter from the philosophical and elemental points of view. But no thought has been given to it from the point of view of health. Actually, the breathing can become a means of physical, mental and emotional purification. It can develop into an important therapy. By doing a prolonged study and research, many significant facts can come to light. It can prove to be a very affective therapy. What is needed is an attempt to change this possibility into a reality.