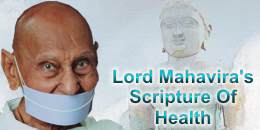 This context, the principle is: looking at the patient and his disease, acquires significance. Treat the patient not his disease. Treat the one who possesses the organ, not the organ itself. If we think from the point of view of totality, if we think about the mind and the emotions, then we can go to the roots of many diseases. One person suffers from a heart ailment. Another person has cancer of stomach. Someone else is suffering from diabetes. These are terrible diseases. If we treat them only as the diseases of the body, it would have many defects. We shall have to go as far as the emotions. It would be probably possible to treat a disease promptly if we think from the point of view of the emotional make-up of the patient and the patient would recover very soon.
Ganadhipati Tulsi was once camping at Bidasar. He suddenly suffered breathing problem. Dr. Mehta arrived there from Jaipur. He diagnosed. After diagnosing his trouble the doctor said, "Now you cannot walk more than one km. in a day." But Gurudev has walked thousands of kilometres since then.
This is a very important question. We should find out which type of patient is having which type of disease. The one whose will power is strong and whose soul is pure conquers his disease just in ten days. But the one whose will-power is sagging and whose emotions are impure and who has no psychic force would not be cured of his disease in ten months or even ten years which he would have otherwise cured in ten days. It is important to decide what type of patient is having what type of disease. No treatment can be given just on the basis of the disease. Both the patient and the disease have to be considered from the point of view of totality. We have to take into account what type of body the patient has, how much vitality he has, how his subtle body is constituted, what types of emotions he experiences, how much will-power he has. Only when we take all these factors into consideration, our decision would be right. Otherwise the right decision cannot be taken. There are many peoplewho say that their disease could not be pinpointed even after several diagnoses. But why is the exact trouble not known? This is a big problem. The reason seems to lie in the one-sided approach. But the disease can be known if the non-absolutism viewpoint is adopted. If the disease has affected any organ, the machine would show it. But this is not sufficient as far as the disease is concerned. It would be necessary to go beyond this and think about the patient's emotions and his will-power. When a person strongly feels that there is joy in every pore of his body, he would not be unhappy and he would not be in despair. His disease, whatever its cause may be, cannot persist. His power of resistance against the disease becomes so strong that the disease just cannot persist.