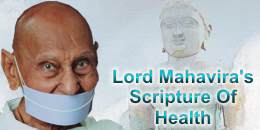 Hridaya Roga - Karana and Nivarana
Bhagvan Mahavira mentioned several causes for untimely death. The meaning of untimely death is that all the organs of one's body stop functioning and that person dies before his time. One of the reasons for untimely death is the adhyavasana, the strong feelings of attachment and malevolence. If there is a strong impulse surging in the heart, or a terrible fit of anger, the heart would pump so fast that it would become the cause of that person's untimely death. If there is no untimely death, that emotional impulse makes that person extremely weak. The adhyavasana affects many organs of our body. The heart is a very sensitive organ. The heart is very much affected by the emotions. An upsurge of anger affects the heart. Sometimes they affect the heart to such an extent that the result is instant heart attack and the person dies.
A strong impulse of greed also weakens the heart. If the feeling of greed becomes very strong, the person may die of a heart attack. A strong feeling of fear also results in a similar situation. In Rajasthan there is famous proverb: Dhasako Padagyo. (The fear affected him so much that his heart sank down and he died). At times, a person gets terrorized at the sight of a frightening face. At times, he experiences terror even in dreams. A person is seated wide awake in a room. Suddenly the room becomes dark and on seeing an object lying in the room, he imagines there is a ghost. His heart sinks at the very thought of it. The impulse of hatred also weakens the heart. All the emotional reactions weaken the heart. Contraction of the arteries, the choking of blood in the arteries, etc. are the causes of the heart attack. But the emotional reactions are the most dangerous of all.
One reason for the heart disease is the lack of proper physical exertion. In the absence of proper physical exercise, every organ becomes weak. The organ, which is not allowed to be as active as it is necessary, it gradually becomes inactive.