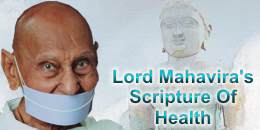 Shishu and Vriddha Svasthya
Regulated Routine
There is an incident mentioned in the Jnatadharrnakatha. Dharini, Emperor Shrenika's wife, was carrying Prince Megha in her womb. In this incident, the state of a foetus is described in such a way that it gives important clues with regard to health. It is said that when Megha Kumar was in his mother's womb, she (Dharini) used to exercise great control over herself while standing, sitting or sleeping. She did everything in a restrained manner. Her entire routine was restrained so that the child in her womb should not be hurt or injured.

The first thing to keep the child in the womb healthy is to do everything in a regulated manner during the period of pregnancy.

Discretion with Regard to Food
Dharini was very alert about her diet in which she used great discretion. What the mother eats affects the child in the womb. The mother's food is the food for the child. That is why the mother should use discretion in what she eats. It is said that the pregnant mother should have controlled diet. She should not eat food that is too pungent, too bitter or too astringent in taste. Nor should her food be too sour or too sweet. Her diet should be such as would be beneficial for the child. She should always give thought to the effect her diet would have on the child. This discretion in the mother's diet is very necessary for the child in the womb.

Discretion with Regard to Kashayas
The third thing is that the pregnant mother should not worry too much. She must keep herself away from the impulses provoked by fear, grief, attachment, etc. She should not fear or grieve, hate or be attached. Let the kasya be subsided. Her emotion should be clean and pure. We find a large number of children born deformed. Some children, even as they survive, are almost like dead for their parents. They being alive or dead hardly seems to make any difference.
They are like a lump of flesh. Why does this happen? In a way, the responsibility lies only with their parents. From the time the mother becomes pregnant and the child is born, the parents have a very big responsibility and a role to play. If the parents are alert, the child would not be deformed. If the parents are careless, if they are intoxicated, the child has to bear the consequences.
Discretion with regard to routine, discretion with regard to diet and discretion with regard to the kashayas are the three very important factors responsible for the child in the womb. If the mother follows these rules properly during her pregnancy, the child's health can be very good.