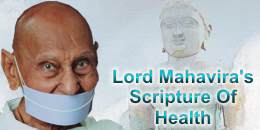 Do Not Lose Your Nerves
The most important thing is that man should not be scared of old age. Nor should he be careless. He should beome careful and alert. He should think: "Old age is right before me. I must make plans to make my old age happy". Mahavira made a plan even for dying: When a person realises that his body would not survive, he must prepare himself to die by going into samadhi. Mahavira presented a clear picture of death by going into samadhi. He described the process by which a person should abandon the body. Similarly, we must also plan for our old age. When a person reaches the age of 60 years, he must think how he would live if he has 10 or 20 or more years in store. The present age is the age of management. Everything is being managed. There should be a well-planned programme for old age also. It should include:
I must be without fear
I should regulate my diet
I should control my instincts
If these three formulae become part of one's routine of life, man in his old age can live a very healthy life. Let him not think in terms of immortality. Departing is definite. But in what form that departure would be depends on the routine we have followed in life. If one's diet is regulated, if the instincts are controlled, one's old age and death can be comfortable.
As a matter of fact, these are very important formulae for health of the child and the aged. If we are constantly vigilant about these formulae, one's childhood would be such that it would be something happy for the future and happiness and unhappiness would not he experienced very keenly in future. Attaining healthy childhood is a guarantee of comfortable old age. If the aged persons conduct their lives in the right manner, they can keep themselves away from many psychological and emotional problems that accompany old age. The body also would remain healthy. A healthy and peaceful old age alone can be a boon in life.
---
END Of BOOK