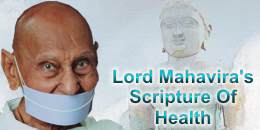 Leshyadhyana [Perception of Psychic Colours] and Svasthya [health]

This is how the emotion and the leshya are related. A very good discussion about which leshya leads to which emotion can be found in the Uttaradhyayana Sutra.
The relation between the emotion and the leshya can also be understood from the following table:
| | |
| --- | --- |
| Emotion | Leshya |
| Cruelty, violence, no control over the senses | Krishna |
| Jealousy, attachment | Neela |
| Trickery, malice | Kapota |
| Humility, softness | Taijasa |
| Insignificant kashaya | Padma |
| Repressed kashaya | Shukla |
The question is: How do the leshyas and the emotions affect health? When the feelings that prompt violence, stealing, etc. arise in a person, they create some kind of tension. That tension causes illness in that person, makes him a patient. The tension created by the emotions would become a nervous tension. This tension leads to disorder in a particular organ and also affects the entire body. When we discuss the problem of health, we should definitely pay attention to our emotion. It is not possible that we can be healthy if our emotion is impure. It would be opposed to the leshya principle from every point of view. Anyone who wishes to be healthy would have to take into account how much arttadhyana and how much raudradhyana are being performed.
If both the arttadhyana and the raudradhyana are being performed, our emotions would be affected. The emotions would affect the mind and the mind would affect the body, resulting in some psychosomatic disease or the other. Purity of the emotion and the leshya alone can free us from complicated problems.