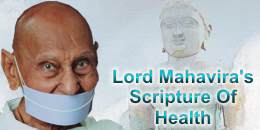 Psyche, Mind And Health (Chitta, Mana and Svasthya)
Mahavira, who possessed excellent health, had a very strong body with Vajra rishabhanaracha Smhanana. Due to his extremely sturdy and healthy body, he was able to face so many hardships, problems and calamities. One can face many difficult situations if the body is strong and healthy and one's consciousness also functions well. A very poignant thing has been said in praise of Bhagvan Mahavira:
Vapureva Tavachashte, Bhagavana! Veetaragatam / NaHiKotarasamsthegnati, Tarurbhavati Shadvarah//
"Oh, Lord! Your body itself indicates that you are dispassionate. No further proof is required."
This statement is supported by an illustration can a tree with fire in its hollow ever be green? The tree which has fire in its hollow can never be green. If you had been overcome with kashaya (Anger, greed, conceit and physical passion) attachment, aversion, anger and distortions these all are very strong so your body would not have been so strong. But his body was healthy and it implies that he was absolutely calm at heart. He felt no excitement of any kind, no anger, no emotion, no agitation. His body itself was the strongest proof. If we give a profound thought to the above verse, the conclusion is that health is not related only to the body, but is also concerned with our chitta (Inner self) the mind and the emotion. It is important to get rid of the illusion that the body remains healthy merely by balanced diet and nourishment.
Inner calm is the foremost requirement of health. Our chaitanya (Consciousness) is like the sun. It has been compared to the sun. Our chitta is the ray of that sun. The ray of the integral consciousness is chitta. The second factor which is important for health is the mind. The mind functions with the association of our chitta. Our chitta is related to consciousness and the mind is related to matter. The consciousness of the mind which we experience is because of its association with chitta. The mind by itself is not animate. It is inanimate. The question is about the guiding factor. What guides our chitta? What guides our mind? The chitta is governed by the subtle body. The mind is governed by the chitta. And the chitta has its own products. The chitta creates emotions, it creates the mind. The emotions and the mind both are the produces of the chitta. Some vibrations emanate from the subtle body and reach the chitta which is the consciousness which functions in association with the brain. As those vibrations emanated the chitta gives rise to the emotions and creates a system governing those emotions. That system is the mind. Thus, there are two products of the produced chitta the emotions and the mind. These are the two factors produced by the chitta.