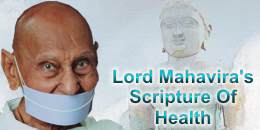 These five postures have been mentioned from the Point of view of sadhana in their background. But it cannot be said that health has not been taken into account. When it is the question of kayasiddhi, health is an essential consideration. Kayasiddhi is not possible without good health. Remaining a the same position for one, two, or three hours, like a person sitting while milking a cow, or sitting in the same position all through the night is not possible unless one is healthy. If a person is healthy, he can be in a squatting position for four praharas (one prahara - three hours) or even six praharas. It had been laid down that the ascetic should not sit on the uncovered ground. Either he should sit on a small square mat or he should squat. He, who does not have a square mat to sit on, he should only squat on the ground. It is very difficult to sit in that position for a long time. That posture was prescribed only from the point of view of kayasiddhi. It was said, "Train the body, train it so much that it causes you no problem, no hardship of any kind."
Three conditions were considered very essential for health:
The dampness in the brain majja should be maintained at a steady level. The grey-matter of the brain should not go dry.
The spinal column should remain flexible. The more the flexibility in the spinal column, one's health would be good to that extent.
The balance of the Endocrine of the glands should be maintained.
If these three conditions are met, a person can stop having any worry about his health.