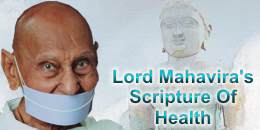 Those who cannot fast, should practise unodari, that is eat less than what is needed to satisfy one's hunger. The past history is a witness to the fact that those who eat less have kept themselves healthy and lived long. Those who have continuously stuffed their stomachs have been ill and died young. Unodari too is not less important than fasting. Temperance in eating is a very important formula of health.
Having a breakfast was not a customary practice in ancient times. Today that practice is very much in vogue. Now there is an anti-breakfast campaign going on. Stop having breakfast to keep healthy. Ekabhattam Cha Bhoyanam, i.e., have only one meal a day, then there would be no illnesses. Restraint about food was the main thing in Mahavira's self-mortification. Controlled diet conserves one's energy and expended less energy. The vital energy (prana urja) is produced around the navel. It is called the samana-prana in Hatha Yoga. The navel is the centre, which produces the vital energy, which is the main element that is responsible for the functioning of the body. That energy is reduced in the persons who over-eat. Over-eating and constipation have a close connection. People generally believe that eating a lot cures constipation. But it is a mistaken belief. In fact, over-eating leads to constipation. This is because that food does not get digested and the raw juice is produced and its ejectment is difficult. This leads to a condition of a number of illnesses such as sleeplessness, melancholic state of the mind, restlessness etc.
Bhagvan Mahavira explained in the language of his times that the food intake of a healthy person consists of 32 morsels. Eating a couple of morsels less means Unodari, which is of many types.