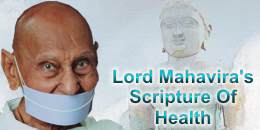 Leshyadhyana [Perception of Psychic Colours] and Svasthya [health]

The question of the leshya is related to health, mantravidya [science of spell], sadhana etc. That is why when we think about health, we should definitely keep in mind the leshya principle. When we pay attention to other things keeping aside the leshya, it may bring some benefit, but not the full benefit.
We must think about all the four aspects of the leshya, that is,
the colour,
the smell,
the taste
the touch
in order to attain perfection and equivalence.
Four types of treatments can be developed on the basis of these four principles:
colour therapy,
smell therapy,
taste therapy
touch therapy.
The smell therapy is being developed. An acharya of Ayurveda wrote a treatise called Pushpa Ayurveda. It is said that in that treatise, he has suggested the treatment by using 16,000 types of flowers. No medicine is necessary. All that is to be done is to give the flower to the patient to smell. His illness would vanish. On the basis of the fragrance, formulas for treating all types of diseases were discovered.
Similarly, the taste-therapy is also used. Taking things with a particular taste cares certain diseases.
The touch therapy was also developed in ancient times. It has been said in the Jain terminology that the disease disappears with the stroke of a hand. One would never realise that he had any disease at all. This is the touch therapy.
The colour therapy; the smell therapy, the taste therapy and the touch therapy are related to the leshyas. If they are thoroughly studied and used, the world can have a treatment, which is easily available, and it can be a great contribution in the field of treatment of the diseases. It can also become a great boon.