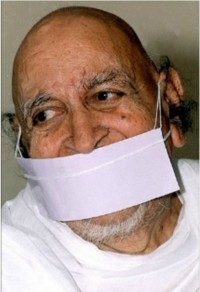 Lifetime
Born:
20.10.1914, Ladnun, Rajasthan, India
Passed away:
23.06.1997, Gangasahar
Terapanth Info
Diksha:
V. S. 1982 Paush Krishna Pachmi, Ladnun by Acharya Kalugani
About
Date of Birth
V.S. 1971. Kartik Shukla Dwitiya
Place of Birth
Ladnun Marwad Zilla Nagaur
Father's Name
Jhoomarmalji
Mother's Name
Vandanaji
Marital Status
Unmarried
Gotra
Khater
Caste
Beesa Oswal
Teacher (Guru)
A. Shri Kaluganiji
Appointment of Successor and Place (Yuvacharya)
V. S. 1993. Bhadravshukla Tritiya, Gangapur
Appointment as Acharya and Place
V. S. 1993. Bhadra V. Shukla Navmi, Gangapur
Number of Sadhu & Sadhvi at the time of appointment as Acharya
Sadhu: 139
Sadhvi: 333
New Diksha of Sadhu & Sadhvis during Acharya period.
Sadhu: 262 Present: 136
Sadhvi: 622 Present: 505

Date of passing away (Devlok)
23rd June 1997 at Gangasahar (Rajasthan)
Tenure as Acharya
57 years. Pad Visarjan
Maximum Chaturmas
Ladnun 10
Sadhvi Pramukha during Acharya period
Sadhvi Jhamkuji, Sadhvi Ladanji, At present Mahashramani Sadhvi Kanakprabhaji
Acharya Tulsiji's passage of 84 years and 62,000 miles on foot, came to an end on June 23, 1997.
A short overview in CE
| | |
| --- | --- |
| Birth | 1914 |
| Initiation & Ordination | 1926 |
| Accession to Acharyaship | 1936 |
| Launching the Anuvrat Movement | 1949 |
| Honoured with the status of Yugapradhana | 1971 |
| Honoured by Bharatjyoti Award | 1986 |
| Honoured with Degree of D.Lit. | 1993 |
| Honoured with Indira Gandhi Award for National Integration | 1993 |
| Honoured with Ganadhipati | 1993 |
| DOD | 1997 |
---
Acharya Tulsi Brief Profile
Acharya Tulsi (October 20, 1914 – June 23, 1997) was a prominent Jain religious leader. He was the founder of the Anuvrata movement and the Jain Vishva Bharti Institute, Ladnun and the author of over one hundred books.
Acharya Mahapragya and Sadhvi Kanakprabha were his disciples.
Acharya Tulsi was born on 20th of October 1914 in Ladnun, in present Nagaur district of Rajasthan, to Vadana and Jhumarmal Khater. Acharya Kalugani, then the leader of the Svetambar Terapanth Sangh, greatly influenced Tulsi. Tulsi was initiated into monkhood at age 11 in 1936.
Kalugani nominated Tulsi to be his successor in Gangapur at Rang Bhawan-the house of Ranglal Hiran, making him the ninth Acharya of the Terapanth Sangha. During his leadership of the Sangha, he initiated more than 776 monks and nuns.
In the 1970s, Tulsi began researching, compiling translations and commentaries on the Jain Agamas. Tulsi, along with Yuvacharya Mahapragya, sought to rediscover Jain meditation and termed it Preksha Dhyan.
In 1949 he launched the Anuvrat Movement (anu = small, vrat=vow, Anuvratas are the limited version of the Mahavratas for the monks), based on the five Jain principles Truth, Nonviolence, Non possession, Non-stealing and Celibacy as applied in their limited version for the lay people. The movement encouraged people to apply the Anuvratas in their personal lives, even when dealing with non-religious aspects of the society. The movement also held that Dharma is not for ensuring happiness in the future lives but also for achieving happiness in the present life.
The movement has continued under the leadership of his disciple Yuvacharya Mahapragya. He was raised to the rank of the Acharya by Acharya Tulsi himself.
In 1948 Tulsi established the Parmarthik Shikshan Sanstha, a spiritual training centre for females aspirants who wanted to lead the Jain monastic lifestyle. Jain Vishva Bharati Institute, an education and research institute was established in 1991 with inspiration from Acharya Tulsi.
Traditionally Jain monks have been prohibited from travelling overseas. Tulsi developed the Saman Order around 1980 in an effort to spread the preachings of Jainism worldwide. This order follows the lifestyle of Sadhus and Sadhvis with two exceptions: They are granted permission to use means of transportation. They are allowed to take food which is prepared for them. This order can be termed as the link between the normal households and the Jain monks and nun.
Jain Monks and nuns remain under a vow of moving on foot all their life. In Tulsi's lifetime he covered more than 70,000 km. His major wanderings included:
1949 : From Bikaner to Jaipur, Delhi, Haryana, Punjab and back to Rajasthan.
1955 : From Rajasthan to Gujarat, Maharashtra, Madhya Pradesh and back to Rajasthan.
1958 : From Rajasthan to Uttar Pradesh, Bihar, Bengal, again Bihar, Uttar pradesh, Delhi, Haryana and back to Rajasthan.
1966 : From Rajasthan to Gujarat, Maharashtra, Tamil Nadu, Pondicherry, Kerala, Karnataka, Andhra Pradesh, Orissa, Madhya Pradesh and back to Rajasthan.
1974 : From Rajasthan to Haryana, Delhi, Punjab, and back to Rajasthan.
1981 : From Rajasthan to Haryana, Delhi and back to Rajasthan.
1987 : From Rajasthan to Haryana and Delhi and back to Rajasthan.
In the course of these travels, Tulsi visited numerous communities and preached to Anuvrat-oriented life.
Acharya Tulsi proposed harmonious cooperation among various Jain sects.
We pay sincere tribute to the Legendary Saint.
---
---
more: