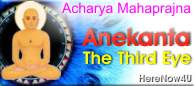 The understanding of truth has been man's eternal quest. What is its nature? Ever since man began to think, this question has turned rhetoric in his mind: What is truth? What is reality? What is its nature? This question has been asked a million times in our philosophical tradition. Those whose intellect has awakened have definitely asked this question.
Once disciple Gautama asked Bhagvan Mahavira, "What is truth?"
Mahavira replied, "To be created is the essence, creation is the truth"
A doubt crept into his mind. If to create were the truth then creation would go on endlessly. Population would multiply to such an extent that there would not even be space for the feet. Living beings would get fixed with other liying beings due to lack of space, substances would merge into other substances and there would be no space for any new creation. Desire would remain desire. Desire would remain virgin. How would new creations emerge? There would be no space for them. That would be a problem.
Having thus not understood this answer pertaining to creation, Gautama asked again, "Sire! What is truth?"
Replied Mahavira, "To be destroyed is the truth." Once again the mind was filled with doubt. Creation is the truth and destruction is also the truth? To be created and to be destroyed, to be born and to die... what kind of meanings are these? Once born and then dead, what else is left? The answer was still unclear.
He asked yet again, "Sire, What is truth?" Bhagvan answered, "To be eternal is the truth". Gautama's mind now focused itself. To be created, destroyed and to remain in existence this is the three-fold truth. Creation, destruction and existence, make truth. Truth is the conflict between the eternal and the impermanent. Just as man and woman make a pair, eternity and impermanence make a pair in nature. There is no absolute permanence or absolute impermanence. The eternal and the impermanent are conflicting opposites. This is truth. In the world around us, if there had been only absolute permanence, then its nomenclature would not have been possible. How could it have been named? Since there is permanence that is why we understand impermanence and similarly since there is impermanence, we understand permanence. But if there were only absolute permanence or absolute impermanence, then their nomenclature would have been difficult. If there was only light and no darkness, then light could not have been defined. All the names that are coined are done so on the basis of their opposites. The need for an opposition party is not just a political concept. The existence of opposites is a fundamental principle. It forms the grammar of all existence and of all truth for if there were no opposites, there would be no truth. That there is truth means that there exists an opposing truth too. The existence of consciousness is defined by the unconscious and the existence of the unconscious by the conscious. The unconscious without the conscious and the conscious without the unconscious cannot exist. It is compulsory for both to exist.