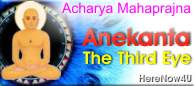 Acharya Bhiksu was well versed in anekanta.
Once a man said, "Sir! I am not able to understand this truth, how can I accept it?" Replied Acharya Bhikshu, "You have not become all knowing that you will understand everything. You do not know the limits of your intellect. It is necessary to know its limits. A man can understand only that much as his intellect allows.
What if a pot says that it cannot accept that an ocean can exist? When I cannot contain so much water, then how can I accept that something else can contain more water? The pot has its limits and so has the ocean. That which can be contained in an ocean cannot be contained in a pot. But if the pot, not knowing its limits, rejects the ocean then it is no truth. Everybody is not endowed with the same intellect. To reject that which you do not understand is ignorance, is making contempt of truth."
Acharya Bhiksu resolved this matter in these words: Accept that which can be understood by your intellect saying that is understandable. If you do not understand something then say that since people more intelligent than me say it, I accept it. This way problems would not increase and you would not be courting untruth either.
Man should move ahead taking both extremities along. One extreme is the limits of the intellect and acceptance of the present modes. The other extreme is that of infinite possibilities. When these extremities are healthy then there is mutual connection and balance between them, the principle of relativity is in operation and so any conclusions derived on that basis will be true.