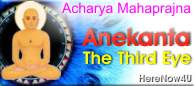 The rule of anekanta: draw your conclusion on the basis of the present; but do not shut the door of possibilities. Keep them always open. Think that today this possibility exists tomorrow it can be another. Thousands of possibilities may fructify depending on the pace of the life cycle infinite possibilities may manifest themselves.
Today a man is ill. His present mode of existence is that of an ailing man. If we take this as final then all possibilities of regaining health are negated and all the efforts being made to restore health to people will go waste. There will, in fact, be no effort made at all.
Anekanta gives the rule for hard work and courage. It says do not accept the present mode to be eternal, to be all encompassing. The man who is ill today may be healthy tomorrow and vice versa. Try to remove the ailment; work hard at it, the mode of good health will manifest itself.
In meditation too anekanta cannot be forgotten. I ask a question to those who are beginning meditation. "Is your mind fixed or wandering?" If you say your mind is fixed then what is the point of coming here and partaking in meditation workshops? Go back home. If you say your mind is wavering, then what is the use of coming here? Go back home. This decision is taken on the basis of the present mode of the mind. According to this decision there is neither the need for you to meditate nor for me to lead the meditation. In anekanta the decision is made on the basis of future modes, on the basis of future possibilities. It is possible that the person who has a wavering mind that does not fix itself even for a second, has the potential of becoming a great yogi.