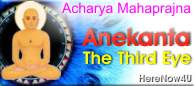 Anekanta is a well-known principle of life. This principle begins with a change of vision. When our vision is not holistic then our thoughts are not distilled through both the gross and the subtle world. As long as our knowledge is not a synthesis of the expressed and the unexpressed modes we are not able to take the right decisions and are also not able to save ourselves from problems. The nature of matter is a very big truth. We should not make light of it. We should try to understand it.
No man who has flouted the norms that govern matter has been able to live happily. Only he who accepts the real facts and the laws that govern matter, will be able to lead a life of peace and happiness, not the one who with his deliberated arguments tries to avoid facing the truth. In general, man does not want to change but in an attempt to make his goals accessible, he brings them down a peg or two. No man wants to reach the level of God and yet he wants to bring God down to earth, to his level. This is perversion. This perspective is wrong.
If we are able to change this perspective and if we accept truth as undivided and eternal then there will be no place for sorrow. The greatest rule of truth is that nothing on earth is forever the same or forever different.
Nobody is forever an enemy nor is anybody forever a friend. On the basis of this rule we can proceed with our exploration. We then access the royal highway of life. The highway which also shows the way to meditational practice. The highway which enables us to be able to see the thief in the trader and the trader in the thief. Who is the thief and who is the trader?
There is an interesting passage. Jesus told the crowd: "Only the man who is pure and has never been perverted can stone this lady." Nobody's hand rose. The words of Jesus made everybody ashamed, made him or her look at the thief within them, at the Satan hidden within them. Nobody's hand rose to throw a stone. Everybody was left stunned.