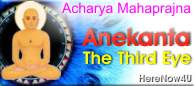 Listen to this story.
There was once a man without a nose. People used to think of him as inauspicious. He was very sad. He was intelligent and so thought of doing something by which the whole world would become "nose-less". Then this idea of inauspicious and auspicious, good omen and bad omen would all come to an end. So one day he went to the market and looked upwards. People asked him what he was seeing. He exclaimed, "Look God Himself is appearing before me." This news spread across the village. A crowd began to gather. They looked upwards and said, "Where is God? We are not able to see anything." He replied, "I am able to see the Lord Himself. How can you see him? Your nose is obstructing your vision. As long as your nose protrudes, you will not be able to behold this sight. I do not have a nose and so I have no protrusion that will block my vision. That is why I am able to behold the Lord clearly."
People fell into a quandary. One man asked, "How can the nose bridge become a barrier?"
Another replied, "Well you do not understand, but what he is saying is true. If you want to behold the Lord then chop off your nose. In just two seconds, God will appear in full form."
There is never a shortage of fools in the world. If there are wise men, then it is necessary to find foolish ones too.
One man went to a barber to chop off his nose. The barber said, "Are you stupid? How does the nose obstruct sight?" He replied, "You do not know this principle. Here take the money and chop of my nose. I am very keen to see the Lord." The barber cut off his nose.
He came running to the man without a nose and asked, "Now tell me where to look." The man without a nose said, "Look above." He looked above and said, «But… I am not able to see anything." The man without a nose said, "Hush, keep quiet. Say you are able to behold the Lord. If you do not say that then you too will become inauspicious. Nobody will respect you. They will call you names. If, however, you say that you are able to see God then thousands of men will cut off their nose and fall within our category." The second man understood the secret. He said aloud, "Wow! What a beautiful sight! The Lord Himself has appeared before me." He started dancing. Now from one there were two men who did not have a nose. Even as they were dancing, their numbers multiplied to thousands.