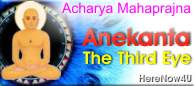 A priest was talking to a scientist. The scientist said, "Man can fly and in fifty years from now he will." The priest replied," you are wrong. Only Gods can fly not men. By saying so you are insulting the Bible and other ancient saints. You are trying to prove them wrong. The development that was to take place has taken place. All discoveries have been made. No new discoveries can be made. All doors to discovery are closed."
Such a notion evolved because the priest thought that truth was searched out only in the past and that it had been completely found and no new search was thus possible. Religion accepted this as the only truth and clung to it and so the religious world saw no further development.
You will find it surprising to hear that the same priest's sons discovered the aircraft fifty years later and flew in the sky.
Transformation is an eternal rule. All the truth that has been uncovered is but a drop in the ocean. The ocean of truth is full. With one single drop we have assumed that we have comprehended all truth; that our search has ended; that the doors have been closed. But who opened them to close them?