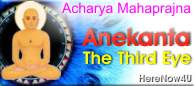 From anekanta is derived balance. From anekanta one gains restraint. From anekanta is gained a balanced perspective. From this it is established that anekanta is not just a philosophy but a manual for good life. Every aspect of spirituality, every inspiration of spirituality comes from anekanta. Without anekanta it can neither be explained nor practiced. People present a single point of view and that creates illusions. Many people get caught in them. This world has more people caught in problems and less solving them.
A king ordered the execution of a man. The man thought, "Since I am dying anyway, why should I be scared!" He fired the king left, right and centre. The king could not understand anything. He asked his minister, "What is he saying!" The minister said, "Sire he is saying that the one who knows how to pardon is the one loved by God." The king said, "Oh! Is that so? Free him immediately."
Another minister was also present there. This man was jealous and did not like the first minister. He said, "Your majesty! This minister told you a lie. This man was insulting you and the minister told you that he was saying that the one who knows how to forgive is God's favourite. What lies! Otter lies!" The king replied, "I liked his lies more than your truth. Because even in his lies there is goodness but in your truth there is aggression, jealousy."
It often happens that one man wants to put another in trouble. He does not wish the well- being of others, wants to fix him. This talk of fixing a person goes on even in the world of philosophy, conduct and behaviour. Man does not want to accept his,
weaknesses. He covers his weakness by presenting it as a principle and thinks nobody will know it is actually his weakness. He says that this is a very big principle and by following it all the knots will be unravelled. And man gets entangled in such talks. Such talks are sometimes pleasant to the ear also. But in actuality they are not true. Bhagvan Mahavir said, "Hurtful words, words that create anger in a person and kill someone are false even if they are true because they harm the listener. Words by themselves are neither true nor false. But if the stream of vital force that flows behind the words are not clean then they sully even truth and make it false.
To understand all these problems and to cope with them, it is necessary for us to adopt the perspective of anekanta, its resultant principles of balance and behave according to it. All those who meditate should aspire to make their vision balanced, to make the conduct and behaviour balanced and make every action balanced. The moment all these ideas of balance manifest in the conscious, I will take that moment to be a moment of realization of the Supreme soul.