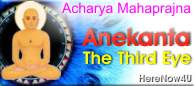 We should understand life. What is life? It is not only that which meets the eye. At the root of life there are two operative principles: substance and mode. Knowledge is both substance and mode. Knowledge is self reliant as well as reliant on others. In its self-reliant form, there is constant endeavour of the self to learn more. When knowledge turns into two then it becomes reliant on others.
On the basis of self-reliance, knowledge can be counted as one.
In its original form knowledge is constant, but when it is concerned with learning about changing modes, it does not remain constant.
The first aspect of our life is knowledge. The basic, aspect of life is knowledge. The second aspect of life is mode. It keeps changing. Modes are not of one kind. Transformation is also not of one kind. One is a natural change that occurs normally and the other is yogic change that occurs due to external stimuli, due to associations and relations.
Nobody has control over natural transformation. It takes place in tune with nature and it can neither be stopped nor arrested. It is in the very existence of the object. In the same existence, change is also contained. Change occurs so that the object is able to retain its identity in the next moment. It is necessary for change to take place so that the object can move from one moment to another retaining its existence. If an object does not change from moment to moment, then its very existence would be at risk. It is natural that an object changes every moment. It is a voluntary change. This is the object's self operating nervous system. The other is involuntary change which takes place due to external stimuli.