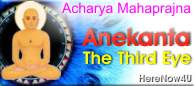 The Jains say that today the door to moksha or liberation is closed. Jamb swami closed the doors to liberation. Whether he did so or not, we definitely have done so. Who locked and who unlocked? Who reached the doors and who inserted the keys? Who had the keys? Was there a watchman at the door to liberation who locked or unlocked the door as desired? Acharya Tulsi once said that the Jains have rejected the possibilities of liberation and have made the religious world like the material world. People now sit back believing that there can be no esoteric knowledge or absolute knowledge. Liberation cannot be. This belief has stultified their desire for quest.
If an ill man thinks he can never get better, then he never will. If a fire catches on and anybody thinks that it can never be quenched then it can never be quenched. Man will never make an attempt to fetch water or sand.
Due to a wrong belief, all of man's hard work, efforts come to naught. We should not be worried if the door to liberation is open or not, if it is locked or not. We should believe that even today liberation, pure knowledge and esoteric knowledge are attainable. All the possibilities are still open. The need is only for extreme effort and extreme hard work. We should not worry how far our effort will take us. But we should see to it that there is no drop in the effort put in. When man is dejected in the first step itself then his second step is never taken. He is engulfed by many problems. Due to his ignorance, false beliefs and strange thinking man takes the wrong steps and gets caught in the vicious cycle of problems. This can happen due to fear also. He begins meditational practice but fears the future because of his accompanying remiss behaviour. Fear, ignorance, ambition are all obstacles to meditational practice. They do not let us transform. The transformation we want to undergo we are not able to effect. Undesired changes occur but not the desired ones. They get distanced.