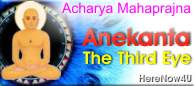 A gentleman asked, "Who is complete!" I replied, "1 am." He then asked, "Who is incomplete!" I replied, "1 am that too." He fell into a quandary. He said, "How can that be! If you are complete, how can you be incomplete too!" I had to reply again. "1 live in the world of languages and therefore I am both. I live in the world where there is thinking and so I am both. I live in the world of memory, imagination and intellect and so I am both."
Any person who lives in the world of languages can be neither complete nor incomplete. Beyond the world of languages, there exists no concept of complete and incomplete. This is the relativity in our language. With the help of language and thought we have helped our imagination cross the frontiers set by language. We have been compelled to cross the limits set by words to enter the world beyond words. All that remains there is existence. What is, remains, imagination vanishes. If this truth can be comprehended, then many philosophical discussions will also come to an end.
All the complicated philosophical disputes exist in the world of language. Truth is beyond language. Truth and language can never go together, can never be of help to each other.
The anekantic view has shed quite some light on this subject. What we think of as truth is, according to anekanta, relative truth. Then the question arises, do we not have the right to call truth the truth? Is all that I say untrue? It can be the truth if you accept your weakness. If you accept your incapability or the inadequacy of language, then it can be the truth. The limitation of language is that in one moment, with one word, it can only express one truth, when in actuality there are infinite truths.
The entire truth can never be grasped with one single word.