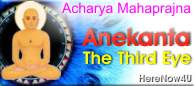 Our entire existence is then characterized by opposing pairs. The attribute and its opposition are both necessary. Either of them by itself is of no use. Their combination makes for success.
On the basis of anekanta it has been found that if there is the world [loka], there is also the anti-world [aloka]. This is a strange situation. The vision of the world or our life system is got from many philosophies but that of anti-world is found only in the world of anekanta.
In other philosophies this vision is not found. Contemporary scientists have indeed given this vision a form. In ancient philosophies the world has been visualized in many ways. But anti-world has not been discussed anywhere.
Contemporary science tells us that if there is a universe, there has to be an anti-universe too. If there is a particle) there has to be an anti-particle too. If there is an atom, there is an anti-atom too. If there is substance) there is anti-substance too. If there is a world there is an anti-world too. If there is matter, there is anti-matter too. If there were no anti-matter then matter would have no existence. If there were no anti-particle then there would be no particle) and if there were no anti-world then the world would have no existence.
When Jain philosophy defined anti-world then the question about its nature arose. The world can be understood because it is visible, but the anti-world is not visible. How then does one accept it? A very difficult question. To obtain the answer to this question it became necessary to employ the concept of anekanta. Anekanta says there are two principles: gati (pace) and sthithi (rest). There is neither absolute motion nor absolute rest. Both exist together. Where the rule of motion and rest does not come into play that is the anti-world. Where the sentient and the insentient exist, that is the world. Where there is no union of the sentient and the insentient) where the insentient rests alone where there is only the cosmos [Akash] and no other substance attached to it) there you find the anti-world.