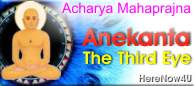 The path of meditation is difficult. It is sure that a despairing man cannot join this path and a lazy man cannot be successful in it. It requires a lot of effort, will and courage. It is wrong to think that closing the eyes and sitting down to meditate is laziness. The courage required to meditate is much more than that required for farming. A man is tilling his land. He goes about it happily, singing or as the modern day farmer does, carrying with him a transistor. He sings and listens to music. In tilling and sowing a lot of effort is not required. But the man who meditates requires more effort. It is not an easy sweet little task. It is our very life's success. The politician makes false promises, but the one who meditates is not able to do any such thing. He says only that which can be done.
One man told his friend, "That man speaks very sweetly and it is a pleasure to listen to him but all of it is false. They are meaningless." Those who talk sweetly but with no meaning are just being politically right.
The path to meditation is not a sweet path. It is not a path of meaningless words. The words of meditation are bitter but they are useful. That is why people call it the path of despair. The path to meditation is the path to a peaceful life and peace of mind. A peaceful life and mind do not come from wealth or prosperity. There is no alternative to this peace. It's only way is through mental concentration, steadying the mind and to change the functioning of the glandular systems. This way the thoughts and waves that come to the mind are assuaged. Thoughts and waves create opposing actions, restlessness. To negate this path is the best way to peace.