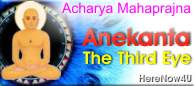 In ancient times there were many schools of philosophy. It was a tradition to ponder philosophically over every conundrum. But in those days philosophers did not think of yoga as a philosophy. It was considered different from philosophy. Philosophy was understood as explaining the truths of substance while yoga was understood as training in meditation. The philosophical aspect of Sankhya was called philosophy whereas the process of meditational practice was called the yoga philosophy. They were separated. One cannot say this division was right. In actuality philosophy is that which can present a comprehensive picture of all the truths in our life. Meditational practice is indeed the philosophy of the real. But in olden times only an understanding of substance was called philosophy. Because of this, the scope of philosophy was limited. The entire world was left untouched. The philosophy with which we have no connection, through which our present day problems cannot be solved, that philosophy may be useful for some extra-terrestrial but is not so for us who live on this earth. The philosophy may be useful for other things but definitely not useful to man. Of what use can that philosophy be which does not touch on problems? How can that which is so cut-off from problems be called a philosophy? Indeed, a philosophy of matter cannot be life's philosophy. In a state of confusion it has been accepted as one. This confusion is similar to what happened to this man who told his friend, "Brother, the sun and moon are two. Of the two the moon is more useful because it gives light when there is darkness. What is the use of the sun? It comes out during the day. And during day we have daylight anyway. At night it is dark. Then the moon rises. The whole earth gets lit with moonlight. So that which spreads light in darkness is of more value. The moon is therefore more useful."
A similar confusion has occurred in the field of philosophy. Philosophy is useful because through that we gain knowledge of matter, of creation, of the soul (atma) and the paramatma. Life is not ever tackled. It is kept separate. But only that is accepted as philosophy. This is similar to saying why know of the uses of the sun? Only the moon that lights up the night is useful. The sun has no use in contemporary times. Due to this confusion in the world of philosophy, there have been many catastrophes. Today it is essential to change this vision. A gentleman called attention to my goal by saying, "Today you are talking of spirituality, meditation and yoga. But till now you have written only on philosophy and were completely involved in unravelling the complexities of philosophies. Today you have left them all behind and are talking of spirituality and yoga."
I heard him. I felt like laughing thinking how odd the world is. In actuality what I am doing now is the real work of philosophy. I have just begun my work on philosophy. Till now what I was doing was borrowed work, the basic work. It was a purely intellectual exercise not one of the mind or the consciousness. That was a small task. The job that can be handled with the intellect, the mind and thought is a small job. In truth, philosophy is that which makes something clear. When we personify a truth, experience it, then it is philosophy. When it is not personified it is not philosophy, it is repetition. In reality we are just continuing to repeat. I repeat the matter contained in old texts. What I say is repeated by somebody in the future… this is an easy exercise, but not philosophy. A tape recorder repeats well. Man does not have that talent of being able to repeat verbatim. A computer or a tape recorder does this job easily. That cannot be called philosophy. That is simply parroting.