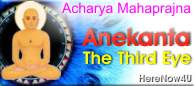 Due to fear any number of modes change.
Plague was riding a horse. On the way it met with Confucius. He asked, "Where are you going?"
Plague replied, "I am going to the town of Singai." "What will you do?"
"I will kill people."
"How many people do you want to kill?"
"Ten thousand."

Hearing just so much Confucius moved on ahead. A few days later Confucius was going for a walk and he saw the same plague riding towards him. Confucius asked, "Why did you tell lies that you will kill ten thousand people?"

Replied Plague, "No sir, I did not tell lies." Confucius retorted, "In the town of Singai fifty thousand people have died, not ten thousand." Plague replied, "I killed only ten thousand. The remaining forty thousand died out of fear. How can I be responsible for that?"
Fear is an inner mode. We have to get to know such and similar emotional modes and change them. How to change them and what is the basic rule for doing so? How to replace those modes that act as obstacles to life and give us unhappiness with those that can give complete happiness? This question is of utmost importance.
As our natural aspects get manifested, these negative emotions dry away in the same way as our natural emotions get weaker, negative or unnatural emotions get stronger.