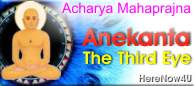 Those who have sat down for meditation for the first time say after ten days that they could never have imagined that such an experience was possible. When there was no question of imagination, how could they have imagined? How can a man standing at a distance imagine? It is not the subject for imagination. The one who has not dipped into himself, who has not tried himself, how can he imagine the benefits or results of meditation? How can a man sitting on the shores of an ocean estimate its depth? Only the one who has dived into the ocean can describe its depths.
We know our outer self, not our inner self. Many people spend their lives knowing just their outer self. They never get an opportunity to go within. Are they able to see all that is within? No they are not. They do not know what lies within. Only the one who goes deep into meditation, takes long dips in spirituality, knows the principles operating within.
Many of those who see the body get scared on seeing its vibrations. Where have they come from? Are they something new? No they are not new. They were all within. They are constantly working. The energy of the body is also working. But as we concentrate we get to know of them and man gets scared. He feels the whole body is trembling. Some new world is facing him. The vibrations were on even earlier but their sound never reached the ears. As soon as the ears stopped hearing outside noises, these sounds became louder and audible. As soon as the mind got more stabilized, the inner self emerged clearer. Man gets worried when encountering the strange world within.
We are well acquainted with the outer world, but not with the inner. The only purpose of meditation is to introduce the one who meditates to his inner world. Our interaction with the outside world should lessen and that with the inner world should increase. We should be less obsessed with the other person and more with our selves. If this happens there will be major changes in our consciousness and a change of personality will take place. If the transformation were to continue then we could reach the final point. The personality should constantly change.
Our perspective should become more and more gentle and the perspective of anekanta should always be with us.
May we not be caught in passions. May we not think in a single dimensional fashion and be fanatic about anyone thing but instead may we adopt a balanced, relative and mutually connected perspective with equanimity, taking into consideration every possible alternative view. Spirituality's greatest result is a holistic view of life. This cannot be got without spirituality. As we progress in spirituality the seed of our anekantic perception grows into a huge tree and its life fragrance emanates from all four sides.
---
End of Book